Waves
Waves
is an installation that has recently debuted at both Wade 2006, installation in public space, Toronto, Canada, upcoming in July 2006 and Kunst Computer Werke at ZKM and HfG Karlsruhe, Germany, upcoming in May 2006. As the audience interacts with wading pools, circuits placed inside bouys interpret the motion of the waves and translate that into sound.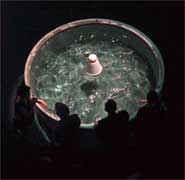 Designed by Shannon McMullen and
Fabian Winkler
, this installation has a lot of potential. There are some drawbacks to the setup that keep this from being really exciting for me. First is that the circuitry and amplification are self contained within each bouy. This forces the bouys to be a reactionary device, dependent upon the input of splashing, etc from the participants (although the designers anticipate environmental influence via breezes, etc). Also, each pool is a self-contained unit, meaning that the only interaction between the pools would be sounds that infiltrate the larger space.
I'd like to see this installation move beyond the boundary of the pool in which it floats. Possibilities include having each pool generate information that is then combined into a larger sonically interactive work, or even having a method of creating waves in a different pool, which would then feed into the input of that pools bouy, which could then be transmitted to another pool, etc - creating a large feedback loop.
In the installation pictures that I've managed to dig up, the artists cleverly created three different sized pools. The impact of this is that the frequency of the waves would be different for a different sized pool. It also appears that the pools have different depths as well.
My criticisms shouldn't be taken too seriously. This is an interesting, interactive installation. I'm simply suggesting further directions that this project could explore. It is also important to note that the artists have created a clear and technologically sophisticated, yet not technologically "heavy", work of art that effectively encourages participation by the audience. Cool!
via
We Make Money Not Art