Courtesy of
We Make Money Not Art
, I came across an interesting installation by Anna Wignell, titled
"Sorting"
.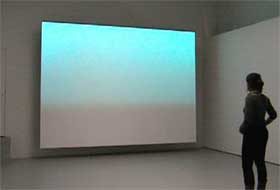 The image is created via a camera image, which is processed in real time through a computer running an algorithm that extracts brightness information from the image, pixel by pixel. The pixels are then reordered from top to bottom by brightness. Clicking on the link above takes you to a description and a very short video that illustrates this process.
Unfortunately, there appears to be a "soundtrack" for this (I couldn't find any further information on this, sorry!).
But this is a very interesting artwork, nonetheless. I am intrigued by the reordering of the visual information - in a sense, this is almost "visual music" in that the participant is able to reinterpret the material of the work, not unlike music. What I mean by that is, the processing is taking an object that we normally perceive in three dimensions (image) and reducing it, very strongly, into two (one could even argue one) dimension. As musicians, we are forced in a similar way to shoehorn information into time-based media. A participant in a visual art exhibition approaches a painting, or a sculpture, all at once. Particularly with painting, the artist has little control over the unfolding in time of the piece. It is possible (and many have tried this) to design the approach to the work, to impose a small amount of "time" into the work, but in the end, the participant dictates their own path through the art.
In music, we have no choice - there is a definite order to our art. Even if we build a non-linear structure, a circular structure, no structure.....in the end, one sound
must
follow the other. But this process allows us to instantly do what visual art so often cannot - create time-based art.
What is interesting (to me) about "Sorting" is that it goes the "other" way - instead of imposing a third (or better said,
fourth
) dimension to visual art, it takes a dimension away, leaving only the building blocks of the image, reordered.
What do you think??