Rosemary Goes Shopping!!!!
Artist
Rosemary Williams
is podcasting her adventures at the Mall of America.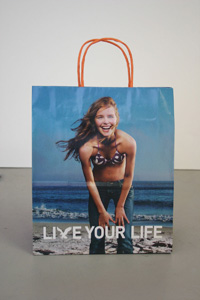 She devised a plan to create a sculpture from shopping bags obtained from every store in the MOA. Rosemary quickly discovered that the stores were unwilling to part with a shopping bag without a purchase, so she engaged in a bit of performance art....she would buy an item from every store in the mall and then return the item (sans bag) the next day! In the end she spent over $15,000 and returned, well,
most
of the items.
The podcasts can be found at
http://www.rosemarygoestothemall.com/
.